Wedding toasts are legend, and with signature cocktails becoming near-requisite at receptions, drinks are on their way, too. Make your bar offerings top-notch with these around-town options that add local spirit to your Big Day.

Situated in the up-and-coming "NoMo" district, bartending company ICEBOX (843/407-0473; IceBoxBar.com) invites couples who've hired the group to their Beverage Lab, where mixologists concoct signature drinks using fresh, local fruits, vegetables, and herbs—and their fully stocked bar, of course. Try their Say "I Do" Sipper, owner Boris Van Dyck's version of a watermelon margarita.

Further downtown, Upper King's Cocktail Club (843/724-9411; TheCocktailClubCharleston.com) walks newbies through mixing with their $25 bartending classes held the first Saturday of every month. Mixologists at the speakeasy-like bar show their students how to use herbs grown on the club's rooftop patio to create homemade infusions well-suited for showers, rehearsals, receptions, brunches, and more.

Over on East Bay Street, Squeeze Bar (843/937-6210; www.Squeeze-Bar.com), the skinny watering hole with fabulous "couture" cocktails and house-made infusions, is now offering up its 'tenders for wedding-related events. They'll help you concoct your own Big Day beverage, or you can opt for one of the popular offerings on their menu, like the Lemongrass Lemonade.

Mix Premier Bartending (843/364-8611; MixCharleston.com) offers full bar and signature cocktail options ranging from $7-$21 per person. And Snyder Event Rentals (843/766-3366; www.SnyderEventRentals.com) will include custom drinks in their packages. For spring, they recommend a mimosa bar with in-season garnishes; otherwise try their Dreamsicle, made with whipped cream vodka.

If you'd rather mix on your own, you can still keep the ingredient list local. Maverick Southern Kitchens (843/724-3808; www.MaverickSouthernKitchens.com), the group behind Charleston Cooks!, S.N.O.B., and High Cotton, offers their own label of spirits through their establishments. And Pearlz (843/577-5755; www.PearlzOysterBar.com) has a trio of house vodkas that go great with oysters. In Mount P, the newly opened Bottles (843/849-9463; ShopBottles.com)stocks their own spin on hard liquors (try the South of Broad Bourbon). Others on our radar of late? Sea Island Rum (843/557-1405; www.SeaIslandRums.com); Virgil Kaine Bourbon (www.VirgilKaine.com); and Jack Rudy Cocktail Co. Small Batch Tonic Syrup (www.JackRudyCocktailCo.com).

Or you can try ready-to-serve options. Charleston's own La Bubbly—a brut sparkling wine from Social Wine Bar (843/577-5665; www.SocialWineBar.com)—is great for champagne toasts. And while Firefly Vodka (843/557-1405; FireflyVodka.com) is revered for tea-infused spirits, its ready-made hard tea and lemonades suit weddings so very well. For the spicy crowd, two homegrown Bloody Mary mixes headline these days. Charleston Mix (843/737-0651; CharlestonMix.com) comes in Original, Bold & Spicy, and other varieties, and is made from native herbs, spices, and, of course, local tomatoes. Hanahan's Fat and Juicy (843/579-0500; www.FatAndJuicymix.com) offers a similarly wholesome, rich, and ripe mix with an eight-ouncer that's great for favors.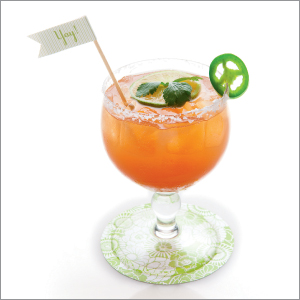 ICEBOX's Say "I Do" Sipper

1½ oz. Milagro tequila
½ oz. Cointreau
2½ oz. fresh watermelon juice
1 oz. fresh lime juice
1 oz. agave syrup
Pinch of salt
1 lime slice
1 jalapeño, seeds removed, sliced into rings
1 cilantro leaf

In a shaker, pour Milagro tequila, Cointreau, watermelon juice, lime juice, and agave syrup and top with ice. Shake vigorously then strain into a salt-rimmed glass with fresh ice. Garnish with lime slice, jalapeño ring, and cilantro.


DRESS UP YOUR DRINKS

Check out these easy how-to's from A Charleston Bride (www.ACharlestonBride.com) to add splash to your signature cocktail.

Slip in a Straw: For a bit more color or a pop of personality, add a fun or funky straw to your special spirit. The Charleston Bride team especially likes those found here: www.thebakersconfections.com.

What's in the Name: Choose a name for your customized cocktail that has sentimental value for you as a couple. Whether it's your favorite song, the place you got engaged, or an inside joke, giving your drink a sentimental title will be sure to make your sips, toasts, and cheers mean even more.

Coaster Cool: Add some fun to practical accompaniments like trays and coasters by making them complement or match your reception décor. Like to DIY? For coasters, simply find the perfect paper from a craft store, use the top of a wide glass as a stencil, trace the circle onto the paper, then hand-cut the coasters. To make a tray from a glass frame, place printed or patterned paper in glass photo frame, and voila! Instant tray. Want to be sure that your crafts and décor match perfectly? Have paper specially customized to match your reception's color palette at www.papermojo.com.

Add Swagger to Your Swizzle: For a DIY swizzle like the one featured in the Say "I Do" Sipper, buy wooden kabob skewers and cut to the desired length. Cut strips out of your custom card stock paper, wrap cutouts around the stick, then secure with glue. You could also tie a piece of ribbon or fabric around the skewer instead.

Nice Ice: Freeze garnish, like a small piece of fresh fruit or a flower, into large ice cubes. Float a custom cube in the center of each cocktail.

Pretty Presentation: Rather than offering drinks from passed trays, create a unique drink display for your personalized cocktails.