By Melissa Reardon | Images by Kelsey Halm Photo
Expert Advice for a Beautiful Fall Bouquet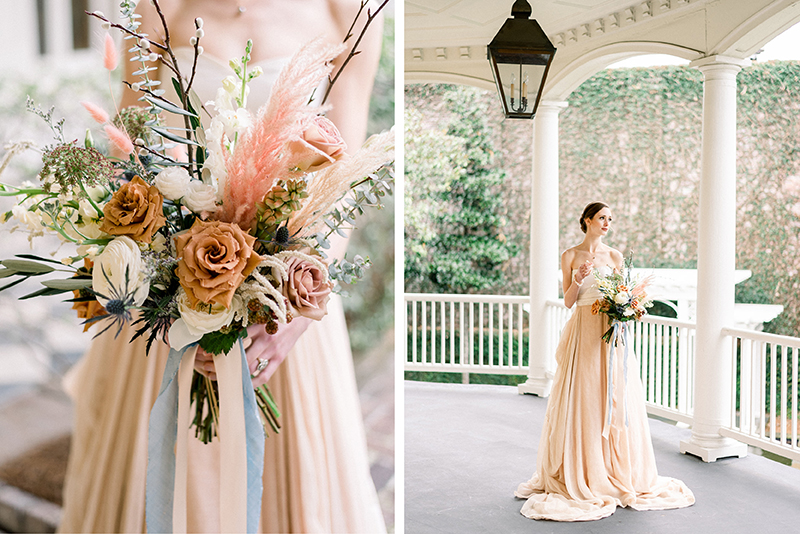 With seasonal change comes an exciting rich color palette and tons of texture with which to design. Along with a team of top-notch Charleston wedding pros, Raleigh Beasley of Creech's Florist developed this styled shoot to showcase the variety, texture, and softer side of fall wedding florals. Raleigh says he's "crazy about fall leaves and detail flowers this time of year that give arrangements an eclectic mix." For this shoot, he pulled in toffee and amnesia roses, garden roses, white ranunculus, lisianthus, fragrant tube roses, tassel-like amaranthus, yellow stock, pink bunny tail, pink preserved pampas grass, pussy willow, birch branches, Queen Anne's lace, limonium, blue thistle, baby blue eucalyptus, and olive branches.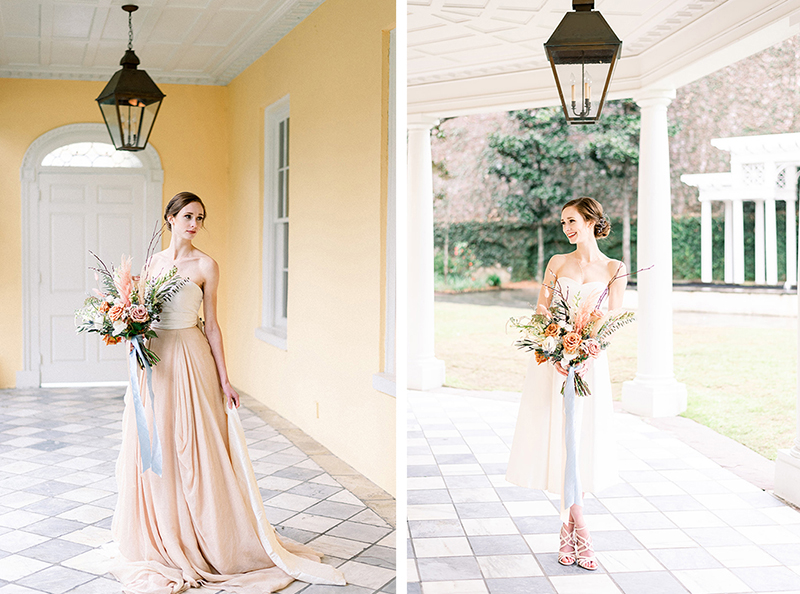 Raleigh says he's seeing more fall brides leaning away from the standard orange, rust, and yellow hues and incorporating touches of lavender, white, or blue. The white and lavender, he says, is a particularly nice trend. "It really lightens that dark fall look and you get this more attractive look."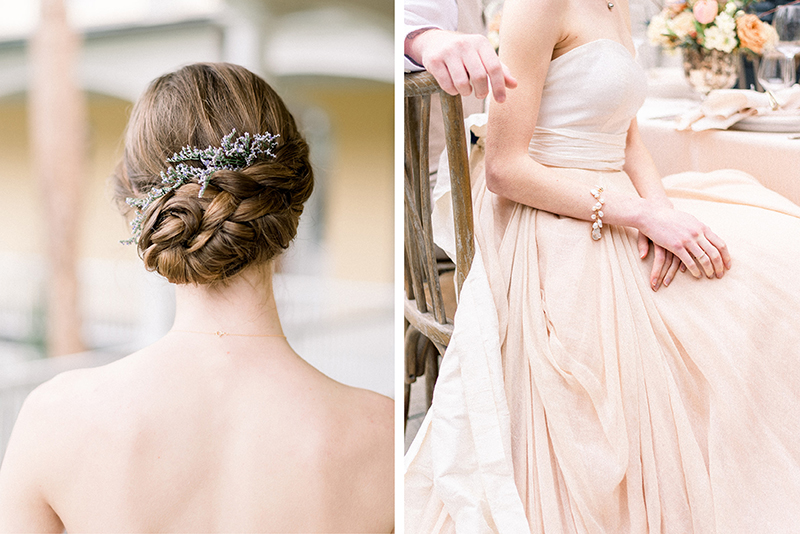 Here, Raleigh lends advice and inspiration to make the most of autumn's distinct offerings.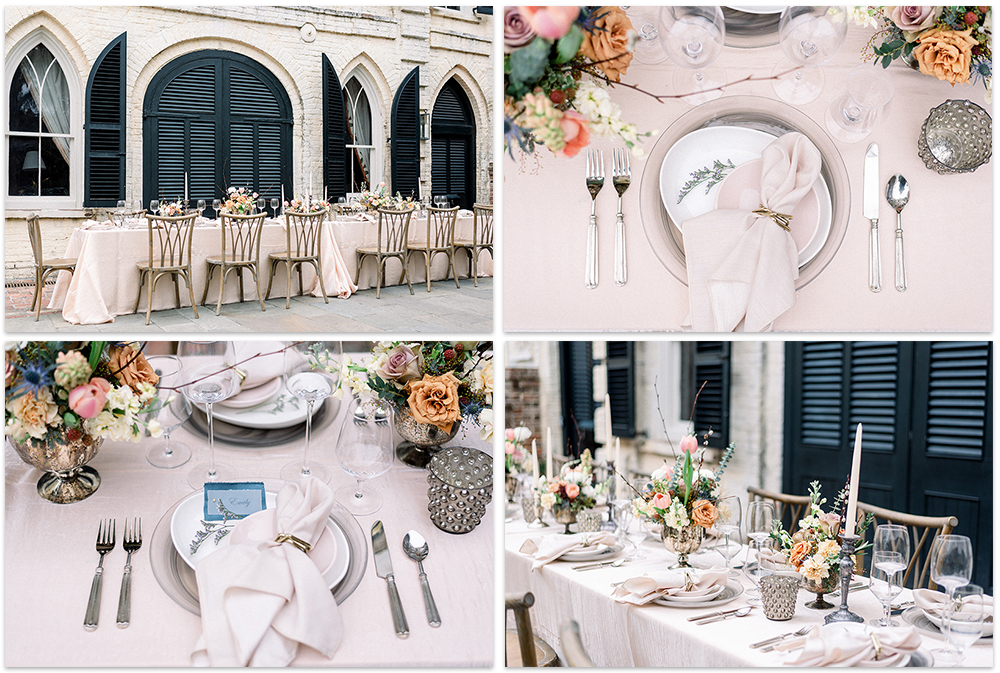 Set the tone. Decide if you prefer light, dark, or bright fall colors. For this styled shoot, Raleigh went for light fall tones. Toasty toffee roses, which are all the rage, he says, and dusty lavender amnesia roses lend a soft, romantic autumnal look. For those who want pink with a fall feel, he recommends sandy pink quicksand roses.
Pick your style. Floral arrangements can take many shapes. For this styled shoot's starring bouquet, Raleigh went for an airy, open look.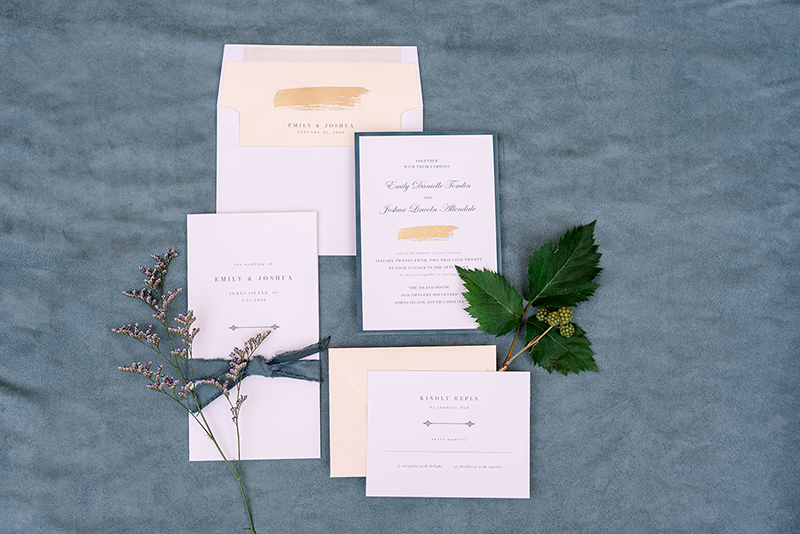 Give it texture. The variety of fall grasses and other foliage opens the door for a little more freedom, color, and texture than you see in other seasons, says Raleigh. Pink preserved pampas grass, bunny tail grass, tassel-like amaranthus, blue thistle, Queen Anne's lace, and baby blue eucalyptus all add great texture.
Dare to be different. Branches, such as birch or pussy willow, can really be very intriguing in a bouquet, though Raleigh admits, he rarely sees brides daring to be that different. While not everyone may be ready to go out on a limb, so to speak, there are plenty of fall leaves and nontraditional detail flowers that can give arrangements an eclectic look. Mahogany maple or copper beech leaves, kangaroo paws, and scabiosa pods are among Raleigh's list of standouts.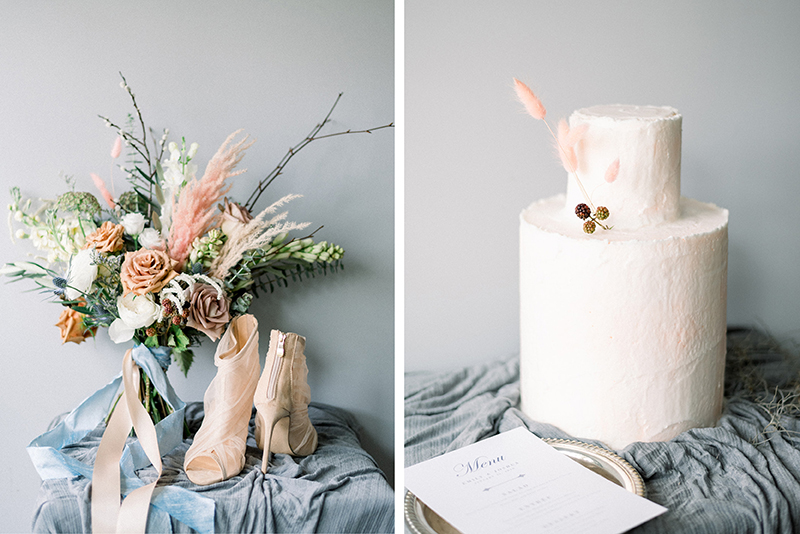 Trust in your florist. That is, after all, why you've hired a professional designer.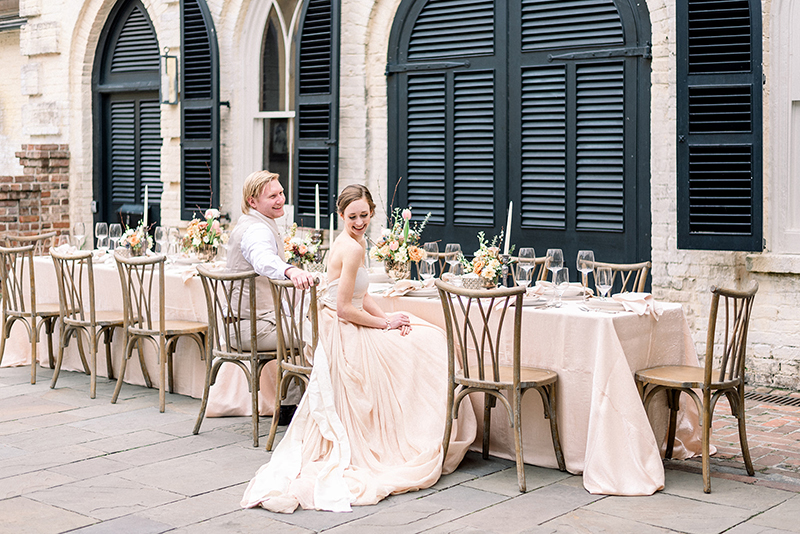 Vendors
Images: Kelsey Halm Photo
Planner: Invitation Only
Venue: William Aiken House
Florals: Creech's Florist
Stationery: Interprintations
Cake: The Tenacious Tart
Model: Helen McGaughy
Dress: Maddison Row South
Jewelry: Dee Ruel
Beauty: Silhouette on Site
Rentals: Ooh! Events
Linens: Event Haus
The post Fabulous Flowers for Fall Charleston Weddings appeared first on The Wedding Row.