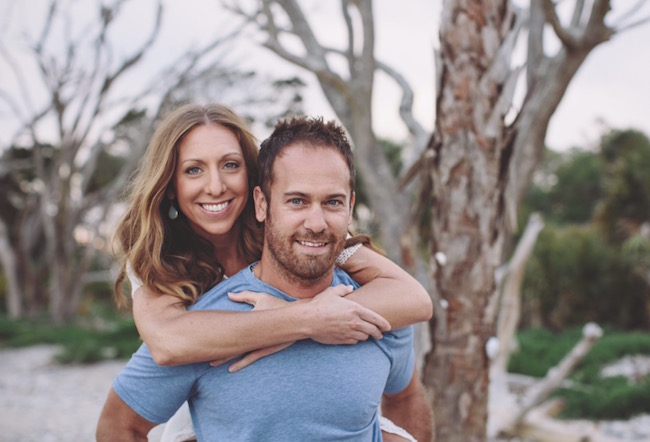 One of the first things about Laura Husek that impressed Jay Daratony upon meeting her through mutual friends at a Charlotte, North Carolina, restaurant in 2012? Her unabashed appetite. "Minutes after I sat down, the server brought a giant, greasy, bacon cheeseburger to the table," says Jay. "Just as I went to tell her she had the wrong table—as there was no possible way either of the two petite girls would've ordered such a dish in front of a couple guys they just met—Laura shouts 'that's mine!' We immediately got along and the conversation was so easy as we laughed and flirted throughout the night."
Two days later the pair went on a first date and two weeks after that their courtship officially began. After facing, and winning, a six-month battle with cancer—during which Laura was by his side the entire time—Jay moved to Charleston in 2014 to pursue his dream of opening Revelry Brewing Co., and Laura soon followed. Once settled in the Holy City, Jay pulled the trigger on his next big move: buying a diamond ring. As he was signing the receipt for the sparkling stunner, he received a text from Laura noting that it was her parents' 35th wedding anniversary. Seizing the love-stamped occasion, later that day he drove Laura to Pitt Street Bridge in Mount Pleasant's Old Village and popped the question.
With the help of Intrigue Design & Events, the local couple is planning an October 13, 2016, wedding at Boone Hall Plantation that will be rife with personal touches, including a handmade tap wall featuring Revelry craft brews.
Billie Jo and Jeremy Photography